January Featured Artists:
Richard Durden | Dianne Muhly | Vergie Ries
Open Wednesday January 5th
Reception January 22nd 2-4pm

---
Richard Durden:
Born in Montana, and raised with a "Big Sky" attitude for 26 years, in 1968 Richard started work as an illustrator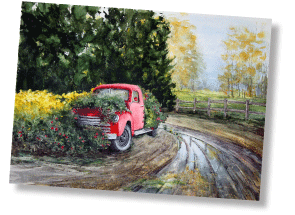 for Stanford Research Institute in Menlo Park, California. Then, in 1973, with the longing for a more relaxed life style and an affordable house, he and his wife moved to the Portland area to raise a family. After 35 years as a "non-native species," Richard is now a well known multi-media artist, a member of the Watercolor Society of Oregon, and Painters Showcase, (a society of artists). Richard has been a professional artist for over 40 years and still finds new ways of creating appealing watercolors by finding a way of conveying "a feeling of being there." His main interest is landscapes and how to achieve them in the most beautiful way his skill allows, painting subject matters that excite him, and ones he hopes appeals to the largest possible audience.
"The idea is the most difficult part of the painting, without a good idea skill can't help." - Richard Durden
---
Dianne Muhly:
1964 was the "Summer of Love" and it seemed as though everyone was in San Francisco wearing flowers in their hair. Certainly, my husband was there. It may have been that he was not having such a great time as he was on active duty with the National Guard, but at least he was there. I, however, was still in Oregon, home alone, pregnant and (fortunately) working full time. While, in reality, I never really wanted it to happen, there was a part of me that yearned to be a hippie, or at least have what seemed to me a care-free lifestyle. Probably a couple of nights sleeping in the park would have cured me.
Ten years, two kids and three houses later (I kept the husband), some of that era must have stayed with me and I began working in glass which was still considered by many to have ties to that earlier time. I worked in a two foot square space in a very tiny kitchen where I cooked meals for the family, eking out a little time here and there to make each project. Now, another 30 years has passed. The kids are grown with kids of their own and I have a wonderful large studio space and almost as much time as I need to continue this passion which is ever evolving. And, yes, I still have the husband.
---
Vergie Reis: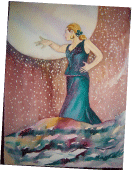 This five-year VAA artist/member, describes herself as a "Valley Art Booster." In Forest Grove, she evolved from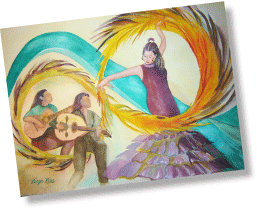 consultant/grant writer for VAA to juried-in watercolor artist. "I am honored to be a small part of this dynamic organization." "My work is proof I was here. An elaborate presentation of people I love, places I visit and garden views." The style is not the standard, light-pastel watercolor affect.
In January and February, 2011, as a featured artist, I will bring a special series to VAA, which I like to think of as, "Earth, Wind, Fiery Flamenco." The paintings' names would make any thesaurus proud, for example: "Syncopated Cadence."
There will be seven paintings inspired by professional Flamenco dancer Tamara Herrera and three complementary paintings. The common themes for all 10 watercolor paintings include bold, warm color, rhythmic movement, and excitement intended to brighten wintery days.
---
Open Wednesday January 5th - Reception January 22nd 2-4pm
---
Sandra Saint-John Creates Stained Glass Art For Valley Art

Sandra Saint-John first began working with stained glass in 1980, but her interest in art began much earlier. She says that "one grandfather was an artist and a coal miner in England; the other an art dealer." Her mother painted and Sandra lived in a house in Hillsboro where, as she puts it, "beauty was revered." Her life and work is a natural extension of this background.
Valley Art had a stained glass piece that hung over the front door for many, many years. Sandra wanted to replace that work with another she contributed to brighten up the area at the gallery entrance. The stained glass by Saint-John is shown above.
Sandra is an accomplished watercolorist, as well as a stained glass artisan, but working with stained glass has become her passion. "The changing light of day passing through colored glass," she says, "was the magic that attracted me to stained glass." She describes the process this way: "In making a stained glass piece there is a breaking apart and a coming together. As I construct a panel made of glass, I do not see the finished effect until it is lifted up, after the last piece is soldered." She notes this is always an exciting surprise as light hits it. Sandra lives in Forest Grove where she balances life with friends, students, solitary work in her garden, which is another work of art, and her studio. See more of her work in the gallery and admire the stained glass "window" when you visit the gallery.
---
Notes from the Board:
We are delighted to report that our AAE has been a success. We have had our best sale of Art for the month of November and received lots of compliments on the variety and quality of Art as well as how it was presented.
We have had a good response to our letter requesting donations to help cover cost of repair on the awing in front of the building and air circulation problems.
At our December 14th Board meeting, the Bylaw Committee presented revised Bylaws which will be voted on by the Board at the January 25th meeting. A workshop will be held on January 15th at 10:00 AM to discuss the proposed changes.
Thanks to all of you who volunteer and help make the gallery such a success. Please send your friends and neighbors who might be looking for a way to contribute and be involved in our community treasure.
Lang Schwartzwald was elected to serve out the term vacated by Carol Dean.

Happy New Year,

Nedra Hathaway
Board President
---
Lin Haak Paints Valley Art in Oils
Lin Haak was born and raised in the Pacific Northwest and has been a "compulsive artist" all her life. She paints for her own "comfort, joy, sanity and compassion. I paint to reach out. I paint as meditation."
She enjoys painting still life and often sets up on the sill of her studio window. The paintings from this are what she calls her "windowsill meditations."
She and her husband, who is a fishing guide, spend many hours on the Columbia and Willamette rivers. When they are going under bridges, she asks him to slow down so she can paint the bridge. If he catches a fish, he throws it in the back of his truck, ices it down and takes it home unscathed until Lin can paint a picture of it. Only then does he fillet it. "It's thrilling to be outdoors, racing the light to tell my story of a single day. Our beautiful 'bridge city' constantly inspires me. Photos and small oil studies painted on location become fodder for studio oil paintings. I paint and paint and paint during the long and short and rainy days," she says.
---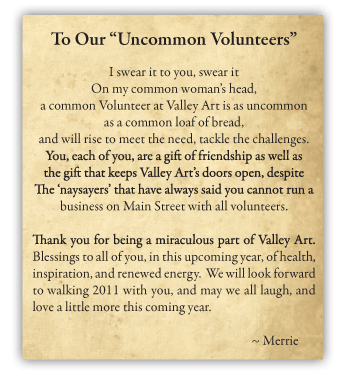 ---
Valley Art Gets a New Logo
Valley Art has updated their new logo to reflect a more modern look, and to provide consistency for marketing purposes. The logo contains simple mountain shapes with a tree in the foreground to symbolize "valley", and that image is cut to the shape of an artist's palette that represents art.
The concept comes from a collaboration between Lang Schwartzwald and Amanda Houston. It took several weeks of working through different ideas and meeting to come up with something that unmistakably symbolized "Valley Art". These ideas were brought before the board and given approval for the final design by the board members. The logo will be used in official marketing materials and letterheads, as well as signage within the gallery itself. It can already be seen on a new sign above the current shows, and on the front page of this newsletter!
The logo is officially black and white, but does have color variations for different marketing purposes. This includes a winter (blue) version, a summer and spring version (green and yellow) and Fall version made mostly of orange. This allows the logo to be used for different coloring schemes in different situations while still retaining the unmistakable form that helps brand the identity of Valley Art.
---
Sidewalk Chalk Art Festival Goes International
The 2010 Sidewalk Chalk Art Festival brought lots of great artists to the downtown streets of Forest Grove. Along with great artists came many spectators and also a reporter from CNA News in Taiwan. The video includes artists creating works of art during the chalk art festival, interviews with artists, and program coordinator Roylene Read. The video also shows the live painters, event attractions and beautiful views of the downtown area. This is great exposure for the event outside of Oregon and hopes to bring more attention for the arts in this area. It may even inspire other cities to create their own chalk art event. The link for viewing the newscast video is HERE.
"People can just be
creative and do what ever they want; and people enjoy it for weeks and weeks after the event happens"
- Roylene Read

---
2010 Annual Artist Event a Success!!


We would like to thank all the volunteers who worked to make our 44th Annual Artist Event such a success. We certainly could not have done this without your endless hours of dedication. Brenda Somes organized a media night the Wednesday night before our AAE. Although not as many of the media showed up as we would like to have had, many artists were in attendance. They welcomed the opportunity to see their work displayed in the Gallery without the opening crowd. They also enjoyed talking with fellow artists, and all wanted this to be a part of next year's event. Thanks again to Brenda Somes and E.J. Baeza who brought their videotaping equipment and spent their time interviewing and taping many of our artists. Ian Lindsay and Sean Cullins provided background music and Carolyn Dau and Bev Camp provided refreshments for the evening. It was indeed a happy occasion for our artists.
On Friday, you volunteers again were ready for an evening of excitement as we opened our doors to our members for their shopping pleasure. You should all take pride in the beautiful Gallery you have created.....
THANK YOU!!!!
---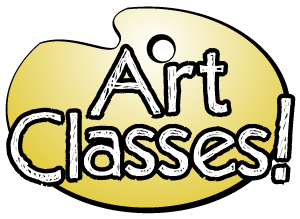 New Classes
Art Club
Tuesdays from 6:30pm - 8:30pm - Starting January 11th (no meeting on VA Board Meeting Nights)
Cost: FREE! Hosted by Lang Schwartzwald
This is a new club starting up for artists looking to talk about... ART! Bring in your own art and get feedback from other artists about your work, or discuss some art theory and philosophy with us. Share some of your own techniques or learn about what others are doing to help improve their skills.
Come be apart of a community of artists looking to network, discuss, and explore ART!
Adult Pottery for Intermediate to Advanced
Tuesdays from 6:30pm - 9:30pm, March 15 - May 3, 2011
Cost is $90.00 for members/$105.00 for non-members
Clay is $13.00 per bag/Tool Kits available for $13.50

This class is designed for intermediate to advanced students. You will learn advanced techniques for creating lidded jars, vases, tea pots, thrown and altered pieces, and so on. Class size is limited to 8 students, so please sign up in advance. Please enter the classroom from the back entrance (Art Education sign above door). Sign up at the front desk with a gallery sitter or contact Christine Hurayt at 971-235-0523. My e-mail address is crizzylu@aol.com

Adult Pottery for Beginners
Thursdays from 6:30pm - 9:30pm, March 17 - May 5, 2011
Cost is $90.00 for members/$105.00 for non-members
Clay is $13.00 per bag/Tool Kits available for $13.50

This class is for beginning students who may have little or no experience on the wheel. We will begin this session with hand building nesting bowls, trivets, and mugs. The following weeks we will learn to center and throw pottery on the wheel. Class size is limited to 10 students, so please sign up in advance. Please enter the classroom from the back entrance (Art Education sign above door). Sign up at the front desk with a gallery sitter or contact Christine Hurayt at 971-235-0523. My e-mail address is crizzylu@aol.com

Upcoming Classes
Summer Art Camp for Kids!
Get your kids geared up for the summer with art camp to satisfy their creative outlet. Students will have plenty of activities to choose from while learning the fundamentals of art. Projects include Dioramas of Space Aliens, Farmville, Garden Party Underwater Kingdom and Monster Madness.
Dates - June-August TBD
Times: 2 hours per day
Cost: $15/day or $50/week
Group Rates and Scheduling Available
Contact: Lang 503-719-3256 or lang@pacificu.edu
Continuing Classes
Quilting Studio: (101)
Times: Fridays 9am-1:30pm
Cost:$28-year /$43-year non-members
Description: This is an ongoing class and may be joined at any time. All levels, from beginning to advanced are welcome. This is the time to do your own work, get expert advice on a special project and meet with other local quilters. Come join the fun.
Hardanger Studio: (102)
Times: Thursdays 9:30am-11:30am
Cost: $28 year/ $43-year non-members
Description: Hardanger embroidery is a delicate form of openwork which originated in the Hardanger region of Norway hundreds of years ago. This is an ongoing class and may be joined at anytime. All levels from beginning to advanced are welcome. Each person works on their own project.
Wood Carving: AM: (112) PM (113)

Instructor: Jeff Harness
hasjeffh@hotmail.com
Times: Mondays 9-12am or 1-4pm
Cost: $12 Members/$27 non-Members
Description: Open carving class for all levels. Bring your own project and join this group. Every Monday from 9-12am.
Watercolor Studio: (110)
Instructor: Jan Su Hirst jansu@timeforhealing.org
Times: Tuesdays 11am-1pm
Costs: 6 classes: $85 members/$100 non-members
Per session: $15 members/$20 non
Description: Open to all levels to learn watercolor techniques. Learn art basics such as color mixing and drawing skills as you learn about preparing your paper for watercolor, brush handling, and a wide range of techniques. Tuesdays, 11am-1pm. Supply list available at sign up.
Silk Workshop: (B481)
Instructor: Jan Su Hirst
Times: Saturday, May 8, 1pm-4pm.
Cost: $55.00 members/$70.00 non
Description: Learn the techniques used in silk painting and experience the thrill of the silk paint flowing across silk. Supplies are furnished for a 5' scarf and a 16" X 20" piece. Patterns are available or bring your own sketches.
Forest Grove Camera Club:
Instructor: Carol Berget cberget@msn.com
$25 Annual Membership / $5 Students / $10 Associate Membership
The Forest Grove Camera Club is a member of the Photographic Society of America (PSA) and the Columbia Council of Camera Clubs. The club participates in a variety of competitions, evaluations and provides programs as well as field trips.
Wednesdays (Except 1st Wed.) 7:30pm
$25 Annual Membership / $5 Students / $10 Associate Membership
Want to take a class but can't afford it?
Valley Art can help. We have received a grant to help offset the cost of tuition and supplies for community members to take art classes. This not only helps those who want to take a class, but also helps fill our classes with more students! So sign up and get going!! For more information contact e-mail lang@pacificu.edu.
Want to Teach a Class?!

Valley Art is looking for artists interested in holding art or craft workshops for kids, or providing instruction for adults. This is a great opportunity to have some fun, and help the art community. If you are interested please contact Lang at 503-719-3256
---