March and April Featured Artists
Artist Reception: March 9th, 2 -4 PM
at The Gallery
Our featured artists will be demonstrating at The Artist Reception! Melissa Gannon will be demonstrating her many layered Mixed media. Lin Haak will be painting with her Gamblin Oils, and Ginger Steele will be carving her designs into creamy white porcelain clay OR create you a leather and copper bracelet to order! COME and Enjoy! Refreshments Also!
Ginger Steele

Ginger Steele is a Cornelius greenhouse grower and potter who is fond of books and travel. According to her blog, justging.wordpress.com, "I like to read and tell stories, and have found that friends are interested in my stories. I also like to share my pottery-making experiences with other potters and get their feedback."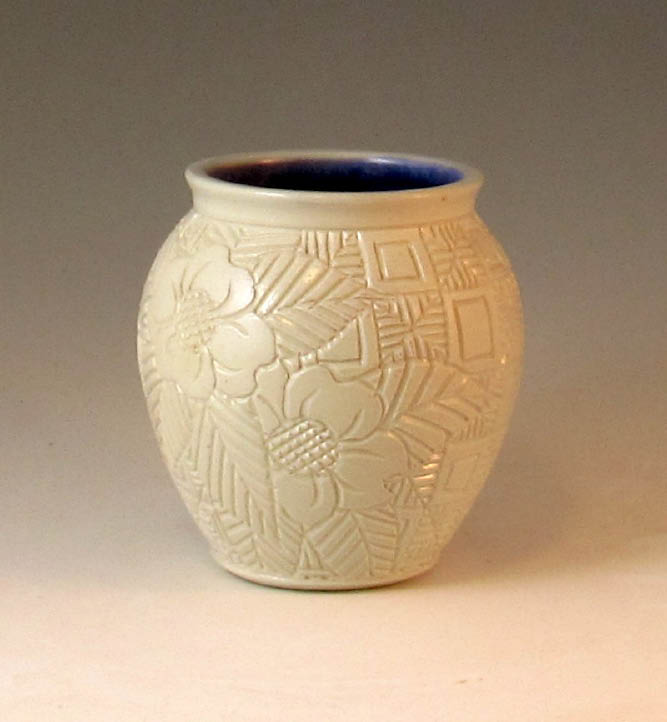 Her New Leaf Greenhouse will soon be overflowing with a spring bounty of primroses, pansies and other beautiful plants of the season. Evidence of her other love is behind the greenhouse: "Inspired by the beautiful surfaces and subtle colors of salt-fired pottery, I built my own salt kiln in 2004. After 10 years of creating highly decorated red earthenware pottery, I wanted to bring a quieter and more abstract sensibility to the work." You can see pictures of the kiln on her blog.
Salt firing dates back to 15th century Germany, where potters discovered that throwing quantities of common salt in the kiln when it reached high temperatures caused a chemical reaction with the clay, forming an attractive natural glaze.

Salt (sodium chloride) is introduced into the kiln firebox at a high temperature. The salt vaporizes and sodium vapor combines with silica in the clay surface that then forms an extremely hard sodium-silicate glaze.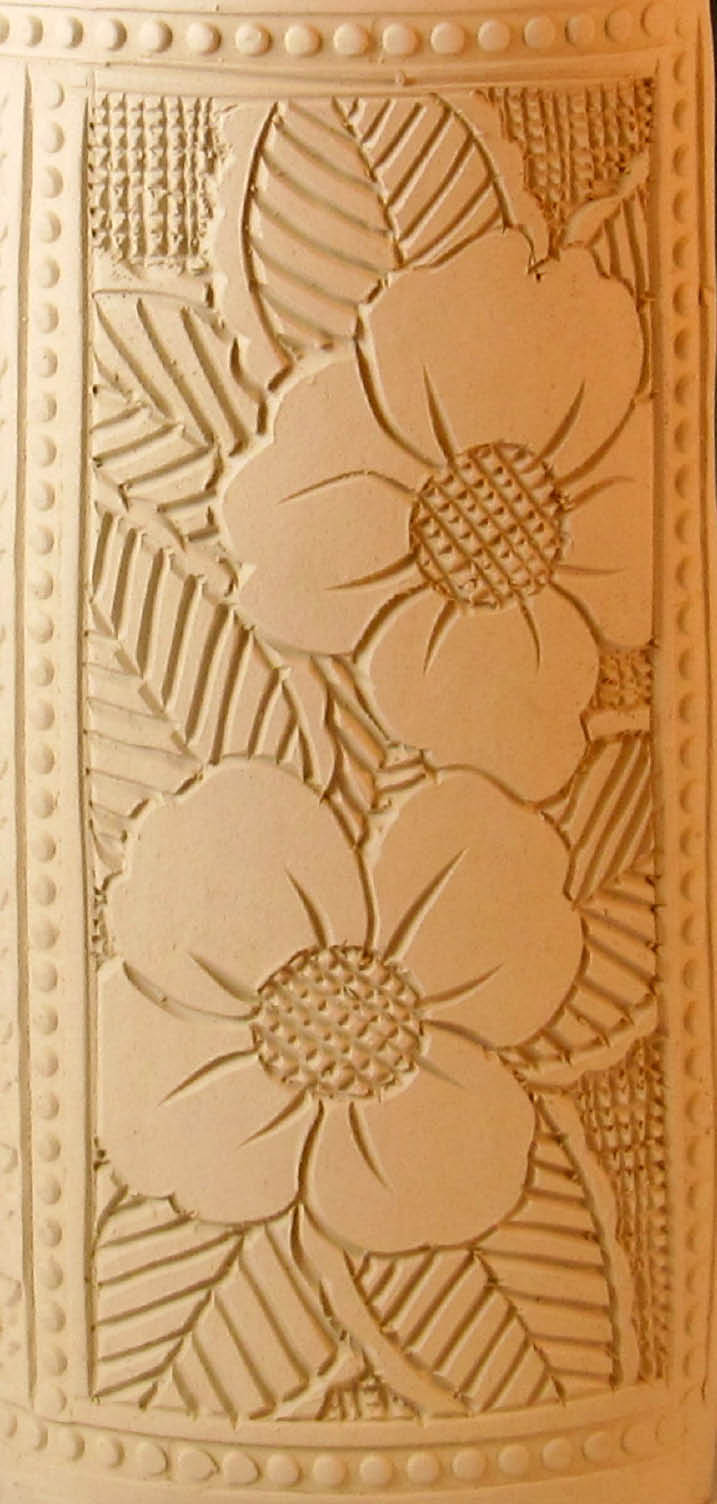 Ginger shapes each piece individually at the potter's wheel by hand. She decorates each one with slips and glazes after a bisque fire. She perches each piece on tiny balls of refractory wadding before placement in the kiln.

"The bottom of each vessel shows the marks of its passage through the fire and vapor. With every firing there are new possibilities for learning; chance combinations of clay, slip and glaze that can be incorporated into the design of the next series of pots," she says.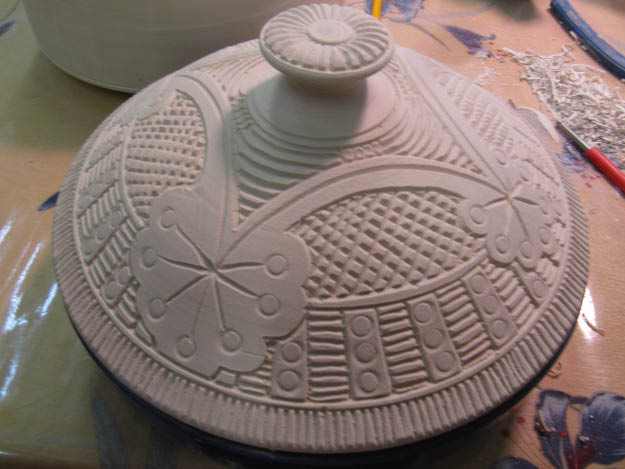 "The unpredictable collaboration of salt vapor and kiln position makes each pot unique and reveals extraordinary possibilities for color and imagery that are artistic nourishment for a working potter."

Ginger has been trying out a new kind of clay recently – Georgies' Crystal Springs cone 10 porcelain. She comments that it "has turned out to be a decent working clay if dried carefully."

For her March/April show she will unveil her latest creations in this white, salt-fired porcelain.
Lin Haak
Lin Haak was born and raised in the Pacific Northwest and has been a "compulsive artist" all her life. She paints for her own "comfort, joy, sanity and compassion."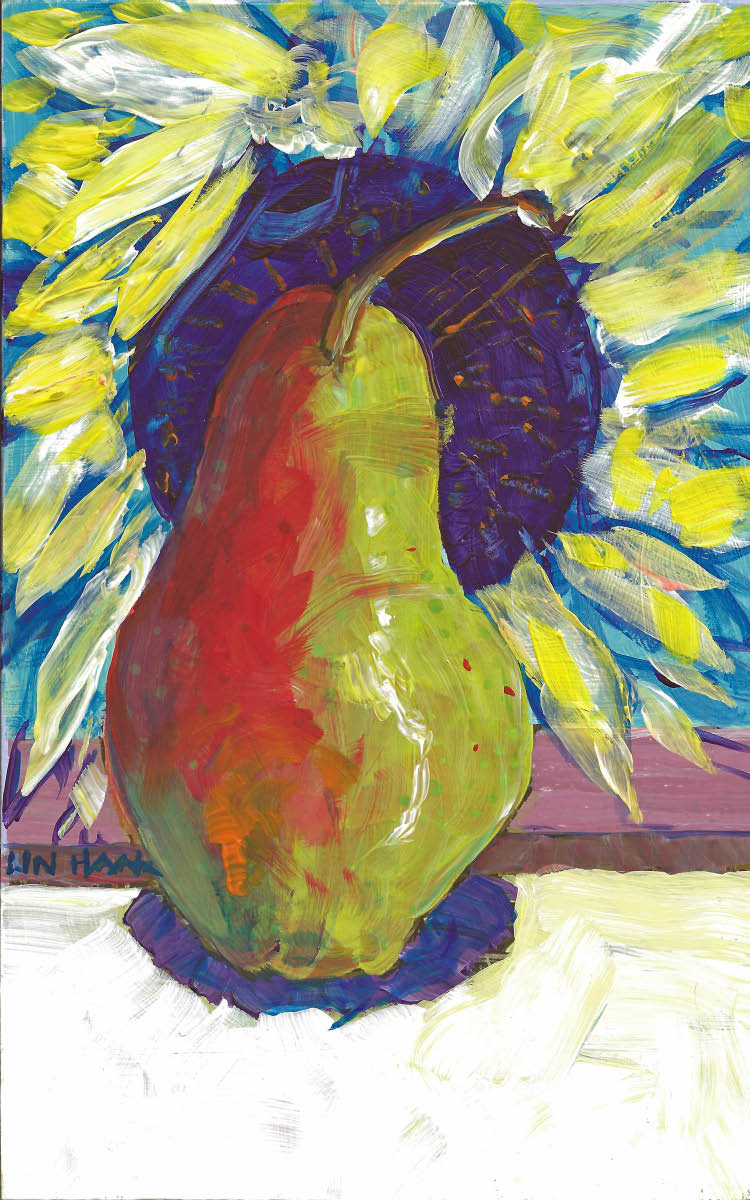 "I paint to reach out," says Lin. "I paint as meditation."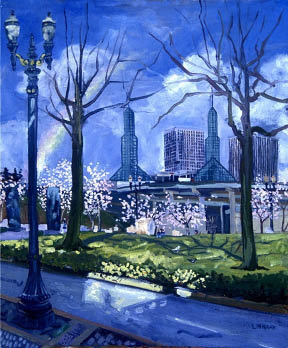 She enjoys painting still life and often sets up objects like a bouquet of roses, fruit or seashells on the sill of her studio window. The paintings from this are what she calls her "windowsill meditations."

Lin and her husband, a fishing guide, spend many hours on the Columbia and Willamette rivers. Her time on the water – and her understanding and respect for the fish and fishermen – leads her to create many fish and seafood paintings.

During her outings Lin snaps photos and then paints small oil studies that later become complete oil paintings. She is inspired by the waterside beauty of Portland, nicknamed "Bridgetown."

"It's thrilling to be outdoors, racing the light to tell my story of a single day," says Lin.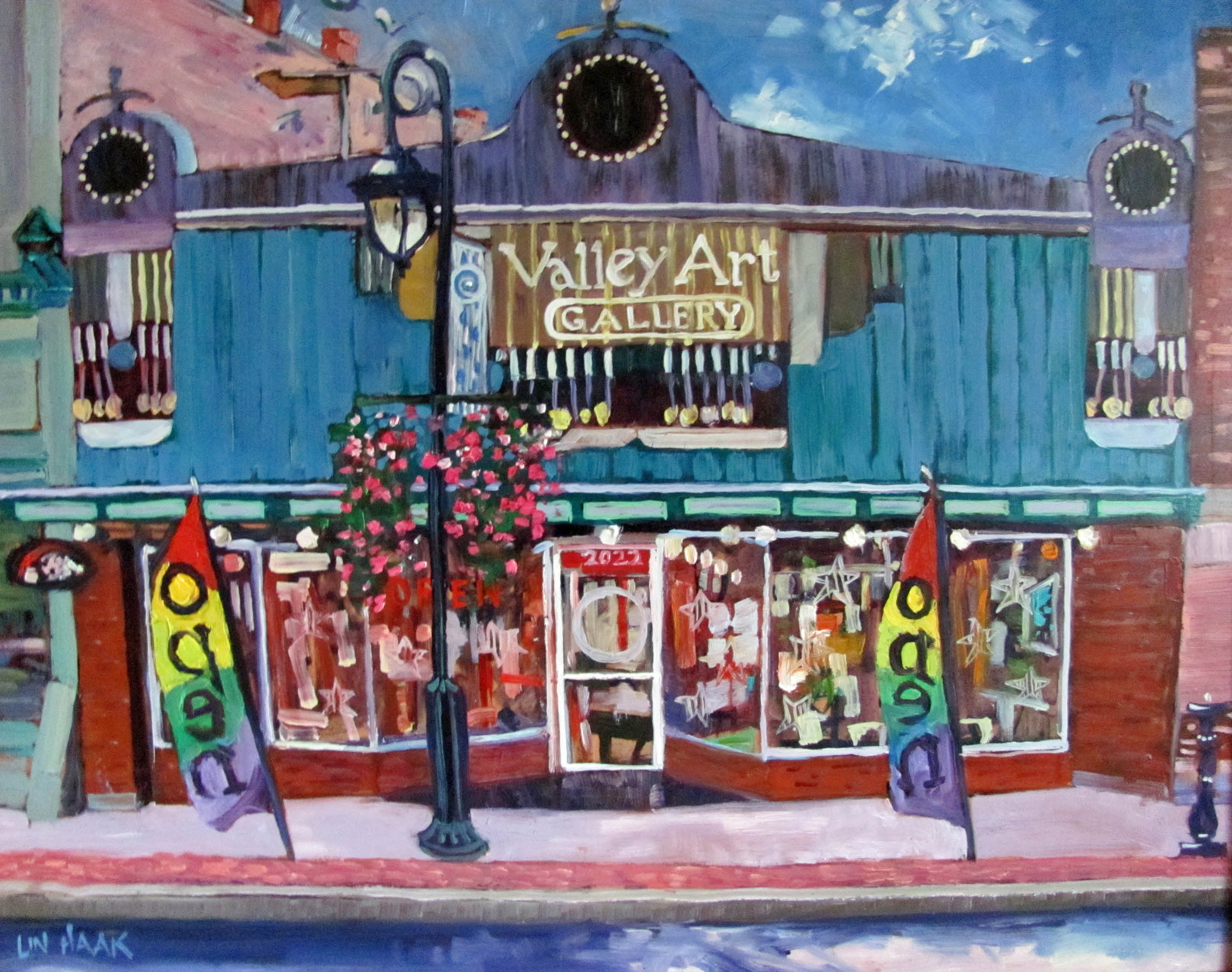 No matter the season, you will likely find Lin painting.

"I paint and paint and paint during the long and short and rainy days," she says. "My work is narrative and the work of my life has become sharing the images I've created … on cards, calendars, journals and wall-hung panels."

Lin also greatly admires Valley Art Gallery and describes her collaboration with the gallery as "a love story." She says "Valley Art Gallery has been a part of my life and work for many, many years. The volunteers who share themselves with the artists represented by the gallery make it possible for me to continue to paint and to continue to share my work."
Vicki Joslyn
kiln-formed glass, 2013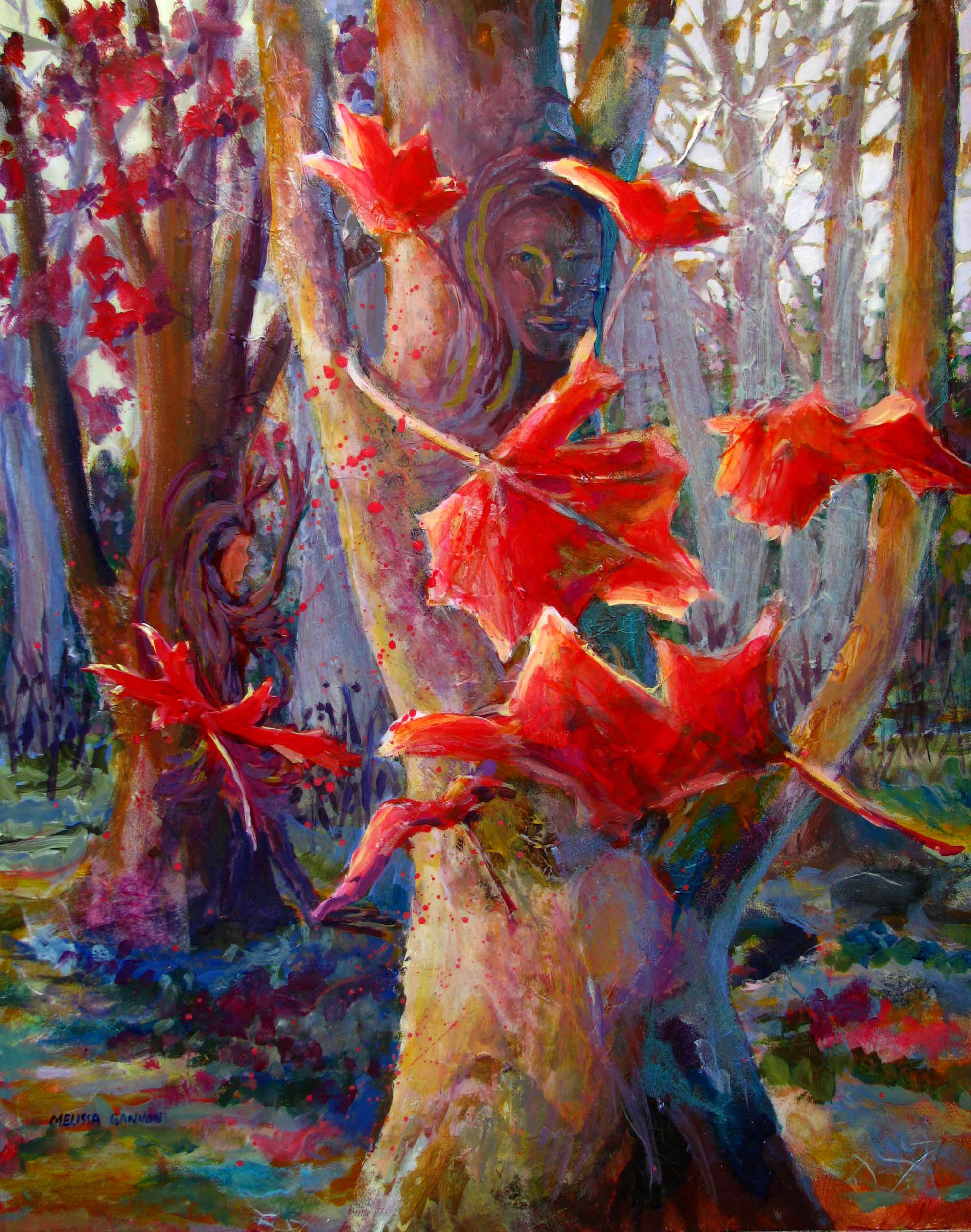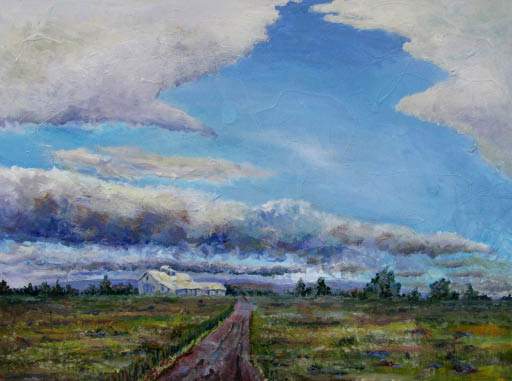 Melissa Gannon, an artist and graphic designer from Gladstone, says, "Color is what attracted me to visually express my creativity. As a resident of the Pacific Northwest, I have been painting for over 20 years. I seek to portray beauty and joy in all of my work."

She has shown her work in the 1999, 2005–2010 Audubon Society's Wild Arts Festival; Art Splash 2001–2002, 2007, 2008, 2011; Silverton Fine Arts Festival 2011–2012; and the 2007–2012 Gresham Art Walk.


Oregon galleries exhibiting Gannon's work include The Vista House in the Columbia River Gorge and Earthworks Gallery in Yachats; Ryrie's Art & Home in Reno, Nev., is another place to find her artwork. She is also in the collection of the Gladstone Senior Center and the Oregon City Pioneer Center. She teaches watercolor, acrylic, pastel, drawing, and colored pencil classes, as well as mixed media workshops.

Her style is to layer color glazes one over another, in a way that helps her portray the richness, depth and nuance of all her subjects. Her mixed media work incorporates multiple layers of paint, paper and collage for increased depth and luminosity.
She especially enjoys portraying nature: that perfect peaceful place in the woods, a bird surveying the world, or the vibrancy of a bunch of daisies.

"Through color and value I give form and feeling to my visions and I offer them to you, the viewer, that you may share my feelings and see my vision."